Wildfire Mitigation
Case Study
Sometime after the FCSFP organized, growing demand to conduct wildfire mitigation and the emergence of the National Fire Plan created opportunities for the FCSFP members to harvest small diameter timber in the wildland-urban interface of their communities. This was in direct response to the availability of federal funding, specifically the National Fire Plan, for fire planning and mitigation. Shifts in operations took place towards wildfire mitigation and fuels reduction. The scope of involvement ranged from small, as in Catron County , to large-scale operations, as in Flagstaff .
In some cases, taking advantage of NFP funding was done in lieu of doing forest restoration. It is important to note that not all in-woods work is actual forest restoration in which silvicultural prescriptions designed to address several issues, such as habitat and natural fire reintroduction. Rather, much is simpler fuels reduction to protect homes and property from catastrophic wildfire in the wildland-urban interface on private and public lands where they are adjacent to each other, which, of course, is common in the Four Corners . Prescriptions are involved in actual restoration, but common in fuels reduction projects. However, both, restoration and fuels reduction are deeply connected with community economic development, small business development, and the notion of stewardship. All of these should be considered in future development of community-based fuels reduction and forest restoration industries.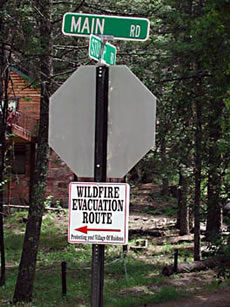 In 2003, the overlap of fuels reduction and true restoration gained a new level of attention through the creation of the Healthy Forests Restoration Act which created "incentive for communities to engage in comprehensive forest planning and prioritization" (Society of American Foresters, 2004, Preparing a Community Wildfire Protection Plan: A handbook for Wildland-Urban Interface Communities. Bethesda , Maryland : SAF). What may turn out to be a major creation of the HFRA is the incentives it offers the US Forest Service and the Bureau of Land Management to engage with local communities in prioritizing and implementing fuels reduction projects (ibid. p2).
Already, community wildfire plans developed in a number of communities have made significant differences in the amount of on-the-ground being achieved. Communities associated with the FCSFP to this effect include, Ruidoso , NM , Reserve, NM, Flagstaff , AZ , Show Low and Pinetop , AZ , and several communities in southwestern Colorado (see Office of Community Services. 2002. Five-county Community Wildfire Plans). Development of community wildfire plans has brought people together in ways only comparable to how an actual wildfire brings them together in common cause.