Wildfire Mitigation and Community Stewardship in Ruidoso, New Mexico
Availability of NFP funds created incentive to conduct wildfire mitigation in New Mexico where grassroots concerns over wildfire risks was already building organizational capacity that allowed people to take advantage of NFP funds when they did become available. Concern over wildfire danger was keen even before the New Mexico State Forestry Division listed the state's 20 most vulnerable interface communities, with Ruidoso at the top (the USDA Forest Service rated Ruidoso second in the US).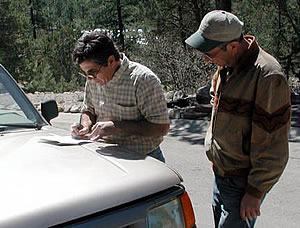 Ruidoso Village Forester Rick DeIaco and a home building contractor going over plans for creating defensible space before new home construction begins.
In Ruidoso, New Mexico, local collaboration to conduct wildfire mitigation over a broad area might be described as "integrative utilization," whereby each partner contributes some component—from stump to consumer—to the overall mechanism of community forestry. They are making deliberate efforts to put together the pieces of each needed activity to ensure an economic model of vertical integration serves their needs. The plan is composed of "harvesting, transportation, and milling" components. The approach reflects broader regional efforts to organize a multi-party/agency program to rebuild a community-based forest products economy that works to improve forest health, as well as provide wildfire protection. Towards this end, Ruidoso wears "two hats," says Village Forester, Rick DeIaco: one for the Ruidoso Community Fire Management Plan on private and municipal land within village limits; and the other is for the "Wildland-Urban Interface Working Group," a community-based partnership working on the "Eagle Creek Fuels Reduction Project" upstream in the town's watershed on Lincoln National Forest.
Local, county, state, and federal governments and agencies make up the WUI partnership. It has been funded by National Fire Plan dollars made available through the Western Wildland Urban Interface Grants Program. The goal has been to create a buffer on public and tribal land adjacent to the village, to lessen crown-fire potential, and force fires to the ground before they reach residential areas.
The in-village ordinance aims to trim "ladder" fuels that could carry flames into the forest canopy. Upstream in the village's watershed, more substantial wildfire mitigation and forest restoration is taking place through the Eagle Creek Fuels Reduction Project.
Similar activities occur on both projects: the village transports homeowners' green waste (grapple-hook trucks) to dumpsters provided by Sierra Contracting composters. On public land, another partner, Sherry Barrow Strategies, Inc., manufactures the green small-diameter timber into animal bed shavings. Like Sierra Contracting, SBS, Inc. is another entrepreneurial achievement integrating the economic model into a multi-party partnership effort that utilizes a variety of public and private funding.
"The service and outreach program has expanded far beyond what we expected," DeIaco said. "The first year we hauled 20,000 cubic yards away, last year it was 40,000, and this year we are expecting 60,000."