State Forest Service
"State forestry has tremendous authorities to get things done. We don't need new authorities. We need to work more inside the community. There is an immediate need so there will be no more Ruidoso's."
-Kirk Rowdabaugh, Arizona State Forester,referring to recent catastrophic wildfires
As has already been mentioned, the state forest service organizations in the Four Corners states, Arizona, Colorado, New Mexico, and Utah, have played a significant role in initiating and developing the FCSFP. The involvement of state forest organizations (SFOs) is somewhat unique in the make up of community forestry partnerships throughout the western United Sates, and this is clearly an important addition. State forestry organizations can play specific roles in working with the private business or entrepreneurial sector. For example, they can be very proactive in supporting the development of wood products businesses,
in developing wood utilization and marketing programs, and in building networks between federal, state and community institutions.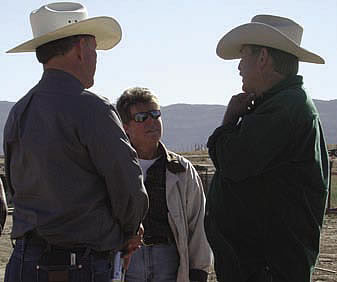 "States understand better the role of S&PF with communities and can play that role better. It is difficult for communities to understand this role. State forestry organizations are in a better bargaining position to carry out the community forestry role."(Joel Frandsen, Utah State Forester (left),speaking with Linda Linn and Dell LeFevre)

In one sense, SFOs provide a key bridge building function between public and private entities. The oft-mentioned goal of establishing public-private partnerships to solve large-scale problems is one that fits well within the purview of SFOs. State foresters can take a broad statewide perspective, linking business enterprise development and public land management needs across a broader commercial and political landscape. Whereas the US Forest Service may, by virtue of regulations or internal cultural tendencies, be focused on lands under their jurisdiction, the state forester has a well-accepted role and responsibility to work with private property owners and businesses, to focus on treatments, utilization, and marketing of forest products, and to provide community assistance through a variety of educational, programmatic, and research products.
Nowhere is this clearer than on the issue of catastrophic wildfire mitigation. SFOs have a specific responsibility to work with private landowners and communities that fall with in the wildland-urban interface (WUI). As is made clear by the mandates within the National Fire Plan, collaboration across multiple jurisdictions is imperative if wildfire mitigation is going to be successful. Working with public managers and local communities to collaboratively focus fuel treatments in a cross-jurisdictional framework is a primary measure of success. Additionally, joint efforts need to be made in fire prevention education, community wildfire protection planning, and in the utilization of wood materials removed from the WUI.
Within the FCSFP, a variety of roles have been played by the SFOs to one degree or another, including statewide forest health assessments, mill retention, and assisting communities in planning and fuel reduction (through the National Fire Plan). Underlying these specific actions is the opportunity that state foresters have as significant advocates for community forestry within the programs of State and Private Forestry of the USDA Forest Service. This is a bridging and networking role that fits uniquely within the program mandates and the cross-boundary perspectives of SFOs.
In the FCSFP, state foresters have played leadership, organizing, and fiscal management roles. Together the four state foresters formed an Oversight Committee to govern and guide the Partnership. The New Mexico SFO (Energy, Minerals, and Natural Resources Division; or EMNRD) provided the administrative contracting authority for all of the funding received through EAP of the USFS, managing all of the grants and contracts made to communities and businesses over the five years of the funding authorization. The Colorado SFO provided the administrative structure for the regional marketing and utilization specialist, who worked out of Durango, Colorado. A staff member of the Arizona SFO sat on the FCSFP Steering Committee, which provided on-going guidance on program development and implementation. Two of the FCSFP state coordinators, in Utah and New Mexico, were state forest employees. Additionally, a BIA liaison, John Waconda, represented tribes in the region as a member of the steering committee and acted as a grant coordinator for tribal funding proposals.
In a variety of ways all of the state foresters provided political advocacy for the causes of community forestry through the National Association of State Foresters (NASF), state government, and through dialogue with representatives of the federal land management agencies. The examples which they provided have demonstrated the important and unique role to be played in community forestry by professional forestry leadership at the state level, especially with regard to private-public partnership development.
"But once the state foresters get a budget from EAP and they start to develop a program, then all five of our SF's (in USFS-Region 2) would stand up and say, 'EAP, you bet.' They got a piece of the action. Many of these other states, they didn't have a piece of the action. All they saw was that under a constrained budget, $25 million of EAP funding, was going some place to the interlopers and not part of their program. But once they get a piece of it--of the action-- and start to develop a program, and see the results and see the positive part of it, then they start to become supportive. And that's not rocket science."
-Bob Dettmann, March 2004