Small Business Orientation
"We [the FCSFP] elevated the issues. We focused on helping the business community, and nobody else was doing that."
-Carla Harper, OCS Interview, February 17, 2004
One of the largest questions facing the community forestry movement is how to structure and scale wood products businesses to operate efficiently in the new field of forest restoration. Many believe that local, small-scale, and often, family owned businesses are part of the answer. Indeed, small business has always played a significant role in the regional context of forest restoration. A few medium -scale manufacturing operations make up part of the industry, such as Forest Energies in Show Low, Arizona , which makes fire-stove pellets for commercial and residential sales. However, the regional industry is largely defined by individuals and families continually trying to find a niche and figure out what product they can make and sell with the raw materials that are available.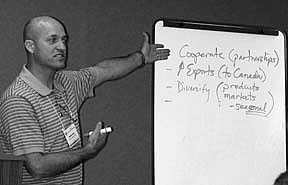 Derek Snow, Southern Utah University Economic Development Council, sharing tips with small business owners during the FCSFP 2003 annual workshop.
In addition to the small-business niche focus, another significant issue raised was to what degree could small business actually handle the amount of raw materials that needed to be disposed of from forests in the region. From the beginning, biomass utilization was considered a possible avenue for disposing of vast volumes of thinned materials. But it also has presented difficult challenges that are still in the process of being confronted. One that persists is the difficulty of getting access to large enough volumes of timber to make investment desirable to industry.
Efforts to develop both avenues continue; but whatever scale is achieved in terms of disposing of low-quality timber in the name of ecological restoration, small business will surely be found at the center of that development.
Lesson Learned
Given the current scale of restoration projects over the past five years, economic innovation among small businesses holds the key to success. As the scale of acres treated increases the likelihood is that small to moderate size business will continue to play a critical role, even if working in concert with larger companies that utilize higher volumes of bio-mass.