The Partnership's Vision
The Dolores River watershed is dominated by native vegetation, where the threats from tamarisk and other associated invasive species have been mitigated and the riparian areas of the watershed continue to become more naturally functioning, self-sustaining, diverse, and resilient over time.
About the Partnership
The Dolores River Restoration Partnership formed in 2008 on the Dolores River and is a five-year effort (see list of partners).   The project area is from McPhee Reservoir to the confluence with the Colorado River and covers more than 4,600 square miles.  The Dolores River was selected because there are rare, riverside plan communities and a need for restoration to help native fish populations.  The river is a significant tributary to the Colorado River and collaborative conservation can be demonstrated on a large-scale landscape. You can view the area of focus at this link:     Watershed Map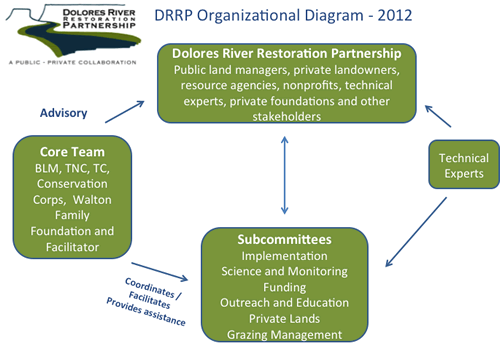 The Partnership's Five Year Goals  
Ecologic – increase the number of sustainable, healthy riparian plant communities while reducing those dominated by tamarisk and other invasive, non-native plant species.
Social – develop a professional, competitive, and efficient work force; improve aesthetic enjoyment; increase public safety; and increase the protection of property.
Economic – increase employment opportunities, improve cost benefit ratio for contractors and youth service corps, improve effectiveness and financial efficiency of riparian restoration, and enhance visitor travel to the area.
Management – manage adaptively, incorporate education and interpretation, garner support from agency budgets and attract other sources of funding, facilitate  communications between land managers and partners.
Dolores River Restoration
Key Partners
Bureau of Land Management (Dolores, Montrose, Grand Junction & Moab Offices)
State of Colorado
Counties of Dolores, Montrose, San Miguel, Mesa & Grand
The Nature Conservancy
Tamarisk Coalition
Walton Family Foundation
Rocky Mountain Bird Observatory
Southwest Conservation Corps
Canyon Country Youth Corps
Western Colorado Conservation Corps
Natural Resources Conservation Service and Conservation Districts
Colorado Division of Wildlife
Utah Division of Wildlife Resources
Colorado Department of Highways
Other agencies and organizations as added in the future