Community Stories
Community Forestry Section Menu
On May 3, 2004 at about 4:00 p.m., Gary Harris stepped up to the control panel and started the engine on a new log debarker at the old Stone Mill near a village known as Lower Frisco, south of Reserve, New Mexico. The old mill had been shut down for about 14 years. Just beyond the debarker sat a new band saw, ready to be linked up.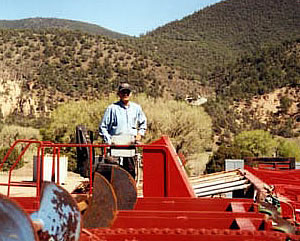 For more than 22 months the leadership of the Catron County Citizens Group (CCCG), with support from county government and many grant resources, has been working to reestablish a milling operation at the old mill near Reserve. Bob Moore, a forester and executive director of the CCCG, anticipates being able to process about three-five million board/feet of wood products per year-a far cry from the heyday of lumbering in this small community set in the midst of the Gila National Forest.
Nevertheless, this is the fulfillment of a dream to reestablish a sustainable wood products economy, tailored to fit the forest-health needs of that region. The reestablishment of a moderate-size mill is the latest of many steps taken by community leaders to move beyond the social and economic chaos of the 1990's, fueled by a struggle between Catron County government and the U.S. Forest Service (Burns, 2003).
---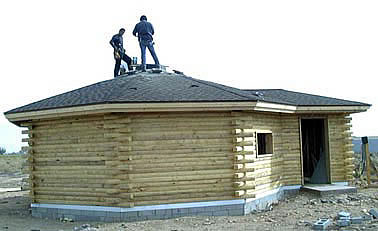 A hogan constructed of small diameter timber by Indigenous Community Enterprises in Cameron, Arizona and marketed to traditional Dineh as affordable traditional housing.
Walking into the log yard of Indigenous Community Enterprises (ICE) in the town of Cameron, just 50 miles north of Flagstaff, Arizona (KenCairn, 2002), an energetic Navajo man, T.J. Nelson, approaches with a smile and a "What can I do for you?"
For the next hour he explains how logs are prepared for the milling operation, which produces a high quality log home kit. Among the designs offered by ICE are traditional octagonal, one room hogans, an expanded two bedroom version of the hogan called the "Beedezah", a Longhouse Chieftain model, and typical mountain cabins. As he leafs through a thick three-ring binder, T.J. explains that they have just completed several months of work on their marketing materials and that they have just been mailed to all of the community governments, or Chapter Houses, of the Navajo Nation.
As he walks amidst the milling machinery, he picks up a contoured piece of wood, shows how the log is molded to create a "universal fit" where they join each other. He comments that he is leaving later that week to give a presentation to a Navajo community in eastern Arizona . With high optimism, he talks about future jobs for residents of the local communities, the desire to begin building furniture, and about providing firewood for the elderly who live nearby.